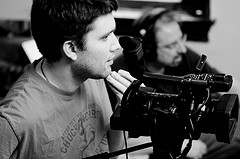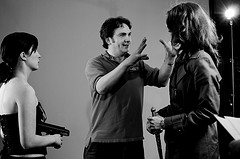 EDIT: Barry has a last-minute trip. I will be going ahead with the class, but we'll be limiting the atendees to 8 people, so as to still give everyone the personalized attention. Everything else remains the same, just one instructor and a smaller class.
-K
The Details
WHEN: January 10th, 2010, 10:00 AM - 6:00 PM
WHERE: CDIA Campus in Georgetown, Washington DC
HOW MUCH: $170 per student
HOW MANY: 12 student maximum, on a first-come first-served basis
WHO: Novice-Intermediate Filmmakers, or other video professionals looking to broaden their knowledge
CONTACT:classes@integralarts.com
Registration in advance is required - no walk-ins. Email classes@integralarts.com to reserve your seat.
This is a one-day hands-on filmmaking class for novice to intermediate filmmakers with two of the premiere filmmakers/instructors in the DC area - Kevin Good and Barry Gribble. Kevin and Barry focus their classes on:
Making films that look and sound better without spending more money
Using a hands-on, interactive approach to learning
Excelling by getting the basics right, every shot
Having fun
This class provides an overview of many of the basics of film production from concept to final cut. The main topics include:
story and script
camera work
shot flow
lighting
directing actors
editing
students shooting a scene with professional actors
Kevin and Barry's filmmaking resume is extensive:
Created a scripted comedy pilot for FOX Television Studios
Created a pilot, "Dog" for under $100 which:

Won the 2009 DC 48 Hour Film Project, Best Film, Writing, Effects and Costume
Won the 2008 48 Hour Panasonic HD Showdown
Won the 2007 DC 48 Hour Film Project, Best Film, Writing, Acting
Had many additional festival screenings and awards
Kevin and Barry are highly acclaimed instructors at Boston University's Center for Digital Imaging Arts (CDIA), where they teach a large range of week-long classes as part of the nine-month certificate program. They have also spoken on panels at the New York Television Festival and New York Comic Con on making your own television show, among others.
More information on CDIA: http://www.cdiabu.com/overview/washington-campus.php
see Kevin's Good's IMDB listing
see Barry Gribble's IMDB listing